Contemporary Dance Classes
My contemporary dance classes are informed by Franklin-Method®and support dancer's wellbeing in rehearsal and performance. I am specialised in teaching within dance company context.
Classes inform the dancers about, and refine awareness of, their body's anatomy, and apply this knowledge and experience to dance training.
A rigorous build-up encompasses structured as well as explorative elements.
Classes are designed to prepare dancers optimal physical and mental for rehearsal and performance, and are flexible to match daily changing requirements.
I strive to create a positive learning environment that nurtures growth and facilitates transformational experiences.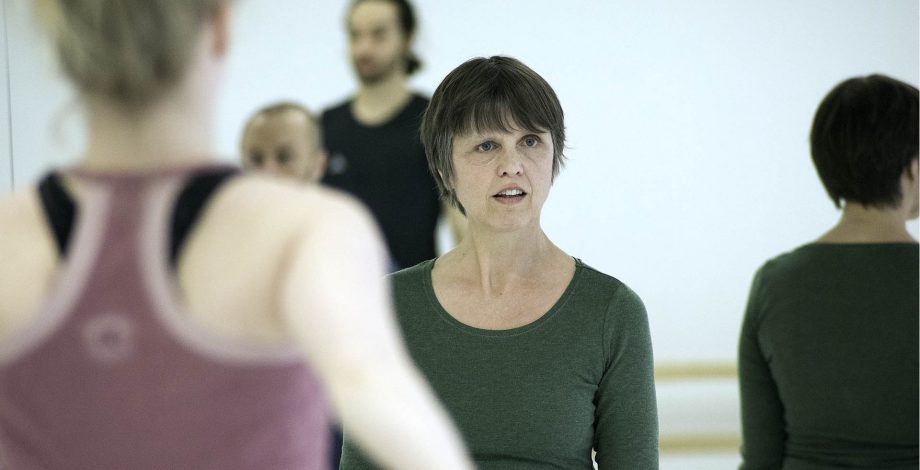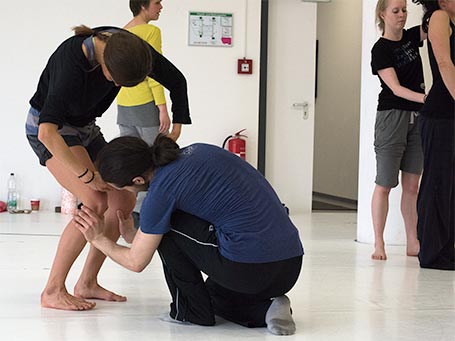 I am aiming to foster each dancer's individual development and to support health, and wellbeing within their demanding practice.
The opportunity to reflect on my practice-based knowledge within an interdisciplinary scientific perspective during my MSc study effectively inspired and informed my classes.
I am member of the international Association of Dance Medicine & Science (IADAMS) and tamed, Tanzmedizin Deutschland e.V. Their congresses and papers are a very valuable resource informing about medical, scientific and educational aspects of dance training.
I  believe in the importance of reflection on teaching practices and the significance of autonomy and ownership within learning processes nourishing mutual growth.
Several artists, dance teachers, and somatic practitioners have been and still are influential to the development of my practice:
Feldenkrais with Bob Chapra, my first encounter with somatic practice, awareness through- and mental simulation of movement.
My fellow student in Rotterdam, Anouk van Dijk, whose classes I enjoyed during the very beginning of her development of the Counter Technique.
Influences Inspiration and Reflection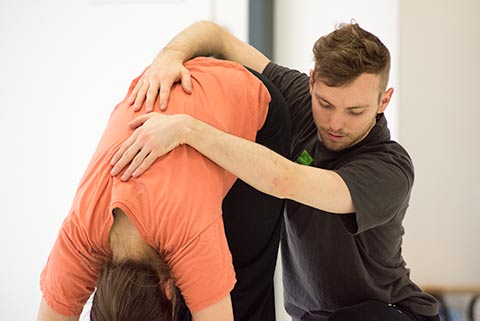 Louise Frank, with her energetic approach to the Limón Technique, the dance technique that initially formed the foundation of my own classes.
Julyen Hamilton, with his upright, playful and precise work, supporting dancer's autonomy and nurturing creative processes.
Michael Jahoda, who taught and embodied the Muller Technique and with his humour fostered a productive and welcoming atmosphere in his classes.
Kira Kirsch and Antoine Ragot inspire me by their way of transforming movement research into rigorous and playful movement practice based on Axis Syllabus.
Tom Koch who introduced me to the Alexander Technique and the impact of its application to dance training.
Sônia Mota, with her intuitive approach to dance technique, centering body and mind.
Michael Schumacher's workshop of Forsythe's Improvisation Technologies, that facilitated the experience of being able to alter habitual movement patterns.

Susanne Fromme
von-Sandt Strasse 7
53225 Bonn
Tel.: +49 (0)228 40399502
Mob.: +49 (0)179 7642807

Open Classes 
Starting in September, I offer an open contemporary class each last Saturday of the month in Bonn.
Please get in touch to learn more!
The application of the Franklin Method can be immensely supportive in various areas of movement. In this context, I cooperate with my dear colleague Kai Guzowski. Check out his website Yogiconcepts to find excellent yoga classes, several videos on the Franklin Method and great blog posts.
Professional Development!
17th until 22nd of September commences the first workshop after the summer break at Starnberger See. We start with "Franklin Methode im Beruf" and have one space left. So, if you would like to spoil yourself, you still can 🙂
The dates for 2024 are here! Check the calendar for more.
Since the beginning of June 2022, the Ruhr Area Group Franklin Method has started to meet monthly. The group comprises people from various contexts who all share an interest in the Franklin Method. Come and join us if you live nearby and want to learn about Franklin Method.